Summer reads for ocean swimmers
Are you looking to learn as much as you can about open water swimming? Perhaps you're looking for a Christmas present for that ocean swimmer friend of yours?
Beyond the vast resources available on OceanFit's website (including 100+ video lessons) there are a number of great books available in hardcopy or for your digital reader.
Some of these books are focused entirely on open water swimming, others are more general swimming-based, but I have read them all and can highly recommend them.
Here are my 5 most recommended open water swimming books (+ two bonus favourites):
1. Open Water Swimming
By Steve Munatones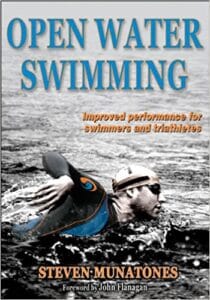 Swim faster, stronger, and more efficiently. Whether you are a dedicated open-water swimmer or a triathlete looking to conquer the sport's most challenging event, Open Water Swimming is your complete guide to improving your performance and decreasing your time.
In Open Water Swimming, renowned marathon swimmer, coach, and commentator Steven Munatones shares his insights and expertise on preparing, training, and competing in open-water events. Purchase online
Why it's a good read: Steve is well regarded as the international master of open water swimming & is the editor in chief of the Open Water Swimming.
2. Swim Smooth
By Paul Newsome & Adam Young
Written for both fitness and competitive swimmers, Swim Smooth contains the latest breakthroughs in swimming to help you radically improve your speed, enjoyment, and success. Hundreds of full-color photographs and three-dimensional graphics help you put theory into practice while detailed advice offers help for intermediate, advanced, and elite swimmers alike. The book's approach lets you identify the strengths and weaknesses of your stroke and drills and training tips let you make the most of your time in the water. Purchase online (Tip: check out the Swim Smooth website & sign up for their regular email)
Why it's a good read: Swim Smooth are based out of Perth, WA and they have developed a really simple program in easy to understand language.
3. Open Water Swimming Manual
By Lynne Cox
Lynne Cox has set open water swimming records across the world, and now she has focused her decades-long experience and expertise into this definitive guide to swimming. Cox methodically addresses what is needed to succeed at and enjoy open water swimming, including choosing the right bathing suit and sunscreen; surviving in dangerous weather conditions, currents, and waves; confronting various marine organisms; treating ailments, such as being stung or bitten, and much more. Cox calls upon Navy SEAL training materials and instructors' knowledge of open water swimming and safety procedures to guide her research. In addition, first-hand anecdotes from SEAL specialists and stories of Cox's own experiences serve as both warnings and proper practices to adopt. Purchase online
Why it's a good read: Some really interesting insights into open water from a variety of sources, particularly the Navy SEAL's.
4. The Essential Beach Book
Many of us live near the beach, and many more visit the beach on holidays. But just how much do we understand about the beach and its potential hazards? The types of waves and the way they break, tides and their currents, dangerous rips and how to spot them, and why some beaches are safer than others. The Essential Beach Book by Rob Brander (aka Dr Rip), a surf-lifesaver and scientist who studies beaches, rips and currents, is a simple, entertaining and useful guide to beach safety, with a solid scientific basis. He explains how beaches form, what drives waves and how rips develop, and offers practical advice to show you how to get the most out of your day at the beach – without risking your life. Purchase online or on iTunes
Why it's a good read: Rob is an eastern suburbs local and friend, and he's doing wonders with rip current science to help shape water safety education. Really easy to read.
5. The Wave
By Susan Casey
In her astonishing new book Susan Casey captures colossal, ship-swallowing waves, and the surfers and scientists who seek them out. For legendary surfer Laird Hamilton, hundred foot waves represent the ultimate challenge. As Susan Casey travels the globe, hunting these monsters of the ocean with Hamilton's crew, she witnesses first-hand the life or death stakes, the glory, and the mystery of impossibly mammoth waves. Yet for the scientists who study them, these waves represent something truly scary brewing in the planet's waters. With inexorable verve, The Wave brilliantly portrays human beings confronting nature at its most ferocious. Purchase online
Why it's a good read: Easy to read and an awesome insight from a surfer and scientist perspective.
+ a bonus "local favourite' book!
Murray Rose – Life is worth swimming
By Murray Rose
Life is Worth Swimming is an intimate glimpse into the personal journey of Australian swimming icon Murray Rose, his life, his stories and his innermost thoughts. Throughout the book, enchanting images some nostalgic, some recent and many from his private collection document his life, highlight his words and bring the events described into sharp focus. Those who lived through the golden era of swimming will delight in re-visiting Australia's astonishing achievements and revel in the inside stories including stories of some highly controversial moments which could only be shared by someone who was there. Purchase online
Why it's a good read: Murray was a legend of Australian swimming & learning about how he trained back in the day before sports academy's is a real eye opener.
+ a bonus "lifestyle' book!
Wild Swimming Sydney Australia
By Sally Tertini and Steve Pollard
See also: Top 10 wild swimming locations in Sydney
Dip in to the dazzling array of wild swimming spots in and around Sydney. Inside you'll find details of over 250 amazing places to swim within a three-hour drive of the city. Every rock pool and tidal bath from Jervis Bay to Newcastle has been reviewed, as well as dozens more beaches, rivers, lakes and waterholes. For over five years the authors researched and swam at hundreds of wild swimming spots. In this volume they reveal their favourites, combining engaging travel writing and spectacular photography. With detailed directions, co-ordinates and maps, this is the perfect book for swimmers, explorers and armchair travellers alike. Purchase online
Why it's a good read: 'Wild swimming' as a term has become popular recently after being imported from the UK and Europe where it's extremely popular. This book opens up more than just the beach locations we are spoiled within Australia. You can pick one spot each weekend and hit the road!
First published in April 2014