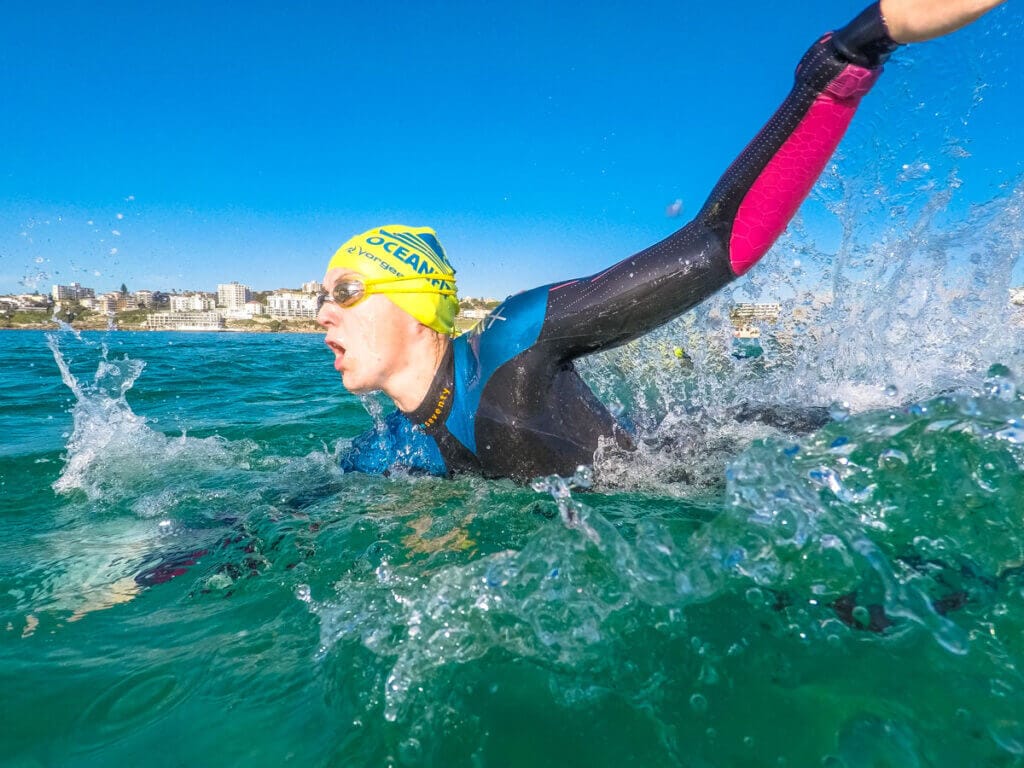 How to see in the sea: Advice for swimmers with poor vision
If you thought foggy goggles were the biggest hindrance to making your way through the open water, take a moment to think about what it'd be like swimming if you couldn't simply wipe the fog away.
That's the situation for many ocean swimmers who, when they're on land, usually require prescription glasses.
For swimmers with poor vision, taking on the ocean has an added challenge that the rest of us take for granted.
From the moment we hit the beach for a swim we're using our eyes to perform an assessment of conditions, looking for patterns in the surf and choosing our swim paths.
In the water, among dozens of in-the-moment decisions, we're timing our movements on the cycles, we're watching for waves and we're looking for course buoys.
When we can see well, we feel in control, we can be proactive in our decision making, and we can have a sense of calmness that comes with this.
The general consensus from members of the Ocean Swimming Enthusiasts Facebook group who have first-hand experience with managing their poor vision while swimming is that you have two options.
1. Disposable contact lenses under goggles
Positives
Single-use so when affected by saltwater they can be thrown out
If you lose your goggles there's still a chance your contacts will have remained in
If you lose your lenses they are cheap to replace
Before and after your swim you can take your goggles off and still see well
Negatives
Comfort while swimming
If eyes are too wet they may reduce vision
Chance of sand getting under lenses
I used to wear contacts before surgery 12 years ago. It was a nightmare. My vision was -6 so pretty bad. The worst was when I lost my goggles in massive swell Palm Beach to Whale 17/18 years ago at the start of the swim. Fortunately, at that stage, I was only a breaststroker so it was handy. Having lost goggles and wearing contacts my eyes were so swollen and sore after that swim. – Rozanne Green
2. Prescription swimming goggles
Positives
No need to wear contact lenses
A more natural feeling when swimming
Negatives
If you lose your goggles you lose your vision
Are more expensive than a normal pair of goggles (and cost more to replace)*
*Ocean swimmer Rosie Langley suggests tying your goggles onto your swimsuit (ladies) in case they come off, with men getting the same result by wearing a hi-vis vest. Claire Moore suggests wearing two swim caps and putting the goggles on in-between to keep secure.
Without my prescription goggles I would not be able to take part in ocean swims as I would not be able to see the navigation buoys. I'd probably be nearing the West Coast of NZ if I didn't have prescription goggles! It's often difficult for swimmers with 20:20 vision to spot the marker buoys because they are sometimes small or a lost-at-sea colour, so impossible for a short-sighted person like me. Plus I now have the pleasure of seeing the sealife along the way, and the relief of being able to find my friends and swimming bag afterwards. – Rosie Langley
Before you purchase a pair of prescription swimming goggles you'll need to know your dioptres for each eye, with the higher quality suppliers allowing you to order different lens strengths for each eye if your eyes differ markedly.
Brands that have prescription swimming goggles, and are recommended by ocean swimmers, including View (most popular), Aqua Sphere and Speedo.
You can buy prescription swimming goggles online from a number of suppliers and ocean swimmers have suggested their favourites on this post. You can also purchase them from stores like Rebel Sport and Aquashop, or talk to your optometrist at your next checkup.
Thanks to everyone who contributed to this post via the Ocean Swimming Enthusiasts Facebook group